Warning
You are reading an old version of this documentation. If you want up-to-date information, please have a look at
4.2
.
Welcome to EYE+ user guide!
We are very pleased you have chosen to use our EYE+ Smart Control System. We hope you enjoy your experience with it as much as we enjoyed creating it! We are always delighted to receive your feedback, do not hesitate to contact us!
The Asyril Team
What is EYE+?
EYE+ is a control system that manages Asycube, hopper, camera and lighting operations. It provides a user-friendly interface to calibrate and to configure new recipes quickly and efficiently. EYE+ was designed to allow a straightforward and hassle free integration of any Asycube with any industrial robot.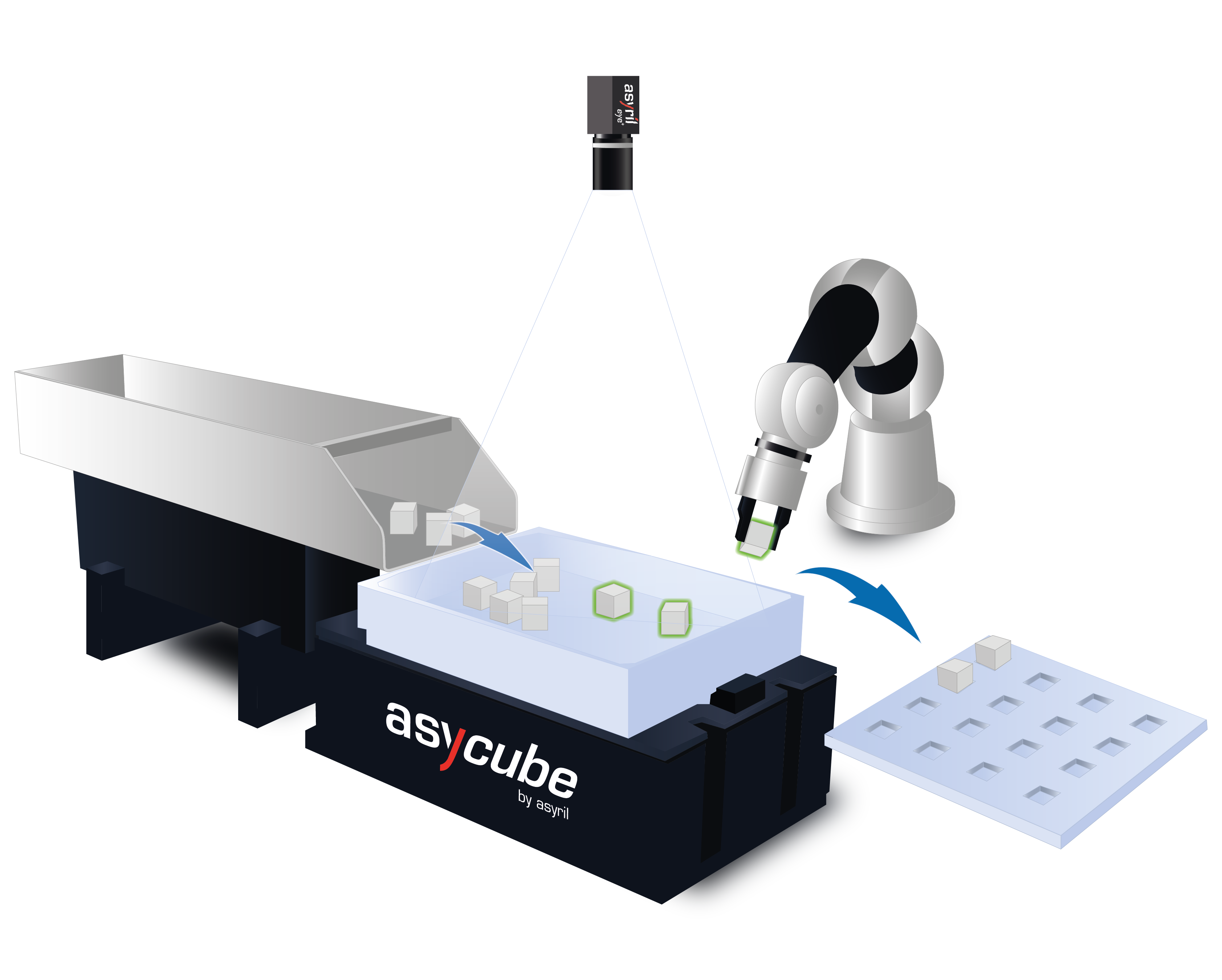 Easy implementation
The intuitive web interface EYE+ Studio, allows you to easily and quickly configure the system to benefit from all the advantages of Asycube flexible feeders. EYE+ Studio will guide you through each decisive step such as camera configuration, recipe creation and hand-eye calibration.
---
In this user guide you should find answers to most of your questions on EYE+ but if you cannot find specific information, do not hesitate to reach out to our support team.
Before you start, make sure you carefully read and understand the safety instructions.
What is in the user guide?
Before you start: this section presents the general information and safety information related to EYE+.

Quick Start: this section presents all the necessary steps to get your EYE+ ready.

Hardware: this section gives mechanical and electrical specifications.

EYE+ Studio: this section presents all actions that can be performed from the web interface such as hand-eye calibration, recipe edition, hand-eye calibration…

Integration: this section covers TCP/IP communication between your robot/PLC and EYE+.

Support: this section contains FAQs, a troubleshooting guide, and lists our support team's contact info.

Appendices