Warning
You are reading an old version of this documentation. If you want up-to-date information, please have a look at
4.2
.
Asycube
Access the Asycube configuration through CONFIGURATION and Asycube.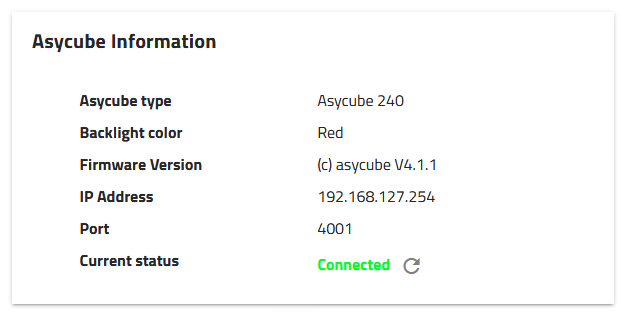 Asycube IP settings
This page provides information about the Asycube detected by EYE+.


| IP address | Subnet mask | Port |
| --- | --- | --- |
| 192.168.127.254 | 255.255.255.0 | 4001 |
If your Asycube is correctly configured (Table 28), the following information must be displayed:
Asycube type: <your Asycube Type>

Backlight color: <your Asycube backlight color>

Firmware version: <your Asycube current firmware version>

IP address: 192.168.127.254

Port: 4001

Current status: Connected
Warning
Current status: Disconnected: First check if the cable is correctly connected between the Asycube and the EYE+ Controller.
If it is correctly connected, your Asycube is probably no longer configured with the default IP address and port. You must change the configuration of the Asycube to match the Table 28. If you need help, please contact us.
Asycube Purge
If your Asycube is compatible with the Asyril purging system (sold separately), a new section will be visible. In it, you will be able to enable the system and set whether the flap is on the right or left side of the platform. This parameter is critical as the system will use the corresponding Asycube vibration when purging.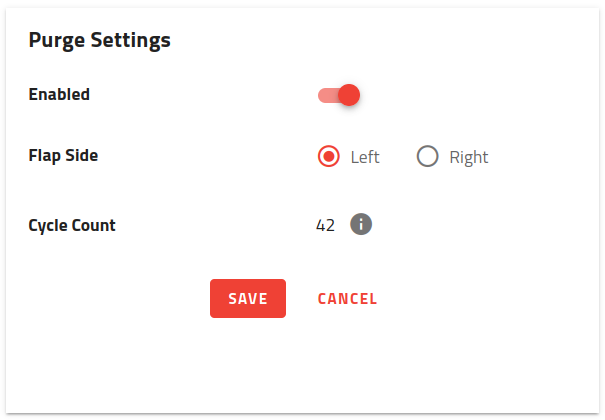 Note
You will also find the flap motor cycle count, defined as the number of open/close cycles the motor has performed since its installation. We recommend changing this motor after 20 000 cycles.


| Asycube Type | Firmware version |
| --- | --- |
| Asycube 240 | 6.2.2+ |
| Asycube 380 | 6.2.0+ |
| Asycube 530 | 6.2.0+ |
Note
Asycubes 50 & 80 are not supported.
Warning
On Asycube 240, the purging system uses the second set of IO connectors, meaning a second hopper cannot be triggered through the Asycube directly when the purge is enabled. Consider using the EYE+ box GPIO instead.